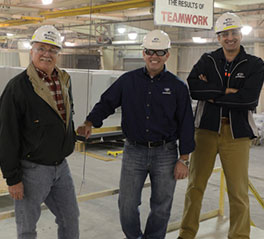 WHO WE ARE
EDC Finance Corporation is a community-based private, not-for-profit organization that was founded by the Economic Development Company of Lancaster County (EDC) in 1987 to provide Lancaster County businesses access to state and local economic development incentive financing resources.
WHAT WE DO
EDC Finance Corporation provides project structuring expertise and access to multiple leading economic development financing resources and tools.
Project size 
$500,000 to $15 million
Uses and purposes of funding 
• Land and building acquisition
• Building construction, expansion and renovation
• Purchasing/upgrading long-term machinery and equipment
Entities 
• Businesses – for profit, owner occupied
• Agriculture – production & processing
• Developers
CERTIFICATIONS
In April 2008, EDC Finance Corporation received the Certified Development Company (CDC) designation from the U.S. Small Business Administration to administer the federal SBA 504 program throughout the entire state of Pennsylvania.
EDC Finance Corporation also holds a Certified Economic Development Organization (CEDO) designation from the State of Pennsylvania.
REGIONAL PARTNERSHIPS
With its Pennsylvania state-wide SBA 504 lending charter, EDC Finance partners with leading not-for-profit economic development organizations to efficiently deliver SBA 504 loans to Adams (Adams County Economic Development Corporation), Cumberland (Cumberland Area Economic Development Corporation), and York County (York County Economic Alliance) businesses.
EDC Finance provides structuring expertise, credit underwriting, and maintains the back-office functions related to closing and servicing SBA 504 loans outside of Lancaster County. The regional economic development partner provides a reliable, local loan origination point of contact and staff that will assist with application material and a local voice supporting the loan approval.
The EDC Finance Corporation Board of Directors sets the strategic direction for the organization and oversees the operations of the loan committee.  The Board also is responsible for loan review and approval of financing requests above the loan committee's designated authority.  The all-volunteer Board serves multi-year terms and we thank them for their many hours of dedicated service.
Michael W. Davis

Board Chair
Jeffrey S. Bleacher
Board Vice Chair
Lisa D. Riggs

President
Lyle D. Hosler
Vice President
Directors
Jeffrey S. Bleacher
Managing Partner
Ross Buehler Falk & Company, LLP
Joan M. Brodhead
EVP & COO
Community First Fund
Joshua D. Cohen, Esq.
Esquire
McNees Wallace & Nurick, LLC
Michael W. Davis, Esq.
Partner
Barley Snyder
Jacquelin Eby
CFO & Partner
Versatek Enterprises, LLC
Justin S. Evans

Township Manager
Mount Joy Township
R. Edward Gordon
Executive VP & CFO
Wohlsen Construction Company
Roger M. Guttridge
Retired
M&T Bank, Commercial Banking
Brett D. Jackson
Partner
Brubaker, Connaughton, Goss, & Lucarelli, LLC
Mark Lauriello
CEO
Rettew Associates, Inc
Craig Lehman

Commissioner
County of Lancaster
Michael P. Peachey
Partner
Acuity Advisors and CPAs
Robert Shoemaker
Retired
Lancaster City Alliance, Emeritus
The
EDC Finance Corporation Loan Committee
meets to assess local commercial, production agriculture and community real estate development/redevelopment loan applications.  The all-volunteer Committee is appointed by the EDC Finance Board of Directors and contains representatives from throughout EDC Finance's area of operations:
Officers
Robert Shoemaker, Chair
Members
Jacquelin Eby
CFO & Partner
Versatek Enterprises, LLC
Justin M. Eby
Director, Housing and Community Development
Lancaster County Housing & Redevelopment Authority
Jordan Farrell
Senior Audit & Budget Specialist
Irex Corporation
Roger M. Guttridge

Retired

M&T Bank, Commercial Banking
Brett D. Jackson
Partner
Brubaker, Connaughton, Goss, & Lucarelli, LLC
Mark Lauriello
CEO
Rettew Associates, Inc.
Michael P. Peachey
Partner
Acuity Advisors & CPAs
Robert Shoemaker
Retired
Lancaster City Alliance, Emeritus