Save the Date!
Please mark your calendars! EDC and EDC Finance Corporation will be hosting their Annual Meeting on Tuesday, September 22, 2015 from 7:30 – 9:00AM at the DoubleTree Resort, 2400 Willow Street Pike, Lancaster. Registration information and program details will be available this summer.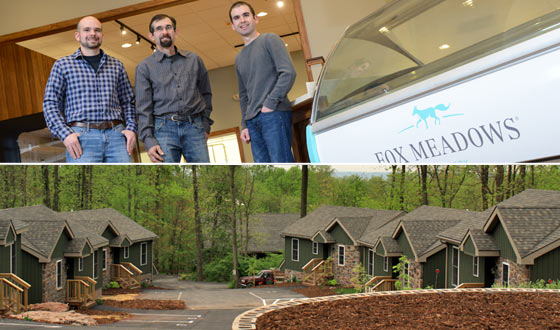 EDC Finance Corporation Impacts Northern Lancaster County
Two recent projects funded by EDC Finance Corporation with Small Business First loans are enhancing the quality of life in Northern Lancaster County. Fox Meadows Creamery and Country Market opened its doors on April 27th, while Refreshing Mountain Retreat and Adventure Center has added amenity filled cabins to its existing offerings.
Fox Meadows Creamery and Country Market, located at 2475 West Main Street, Ephrata, is using milk from the neighboring family farm to produce multiple flavors of ice cream. With the help of a $175,000 Small Business First Loan and National Penn Bank, which provided the balance of the project financing, the Fox family was able to construct a 4,686 square foot creamery that includes retail space. They also included 1,300 square feet of covered outdoor space, perfect for consuming ice cream on a warm summer evening. The Country Market also offers a variety of local foods and beverages.
Just three miles north of Fox Meadows Creamery located in Stevens, Refreshing Mountain Retreat and Adventure Center has long been a popular outdoors destination and has recently upgraded some of its overnight accommodations. Newly constructed cabins were built to include sought after amenities, including Wi-Fi, full kitchens equipped for cooking, and heating and air conditioning, making them a desirable year-round destination. A $200,000 Small Business First loan helped with the associated construction costs.