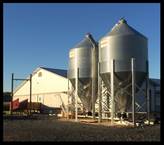 Four repeat EDC Finance borrowers were approved for Pennsylvania Industrial Development Authority – Agriculture loans.
Josiah & Chelsea Rohrer, Manheim – Hog & Pig Farm, $400,000 loan
Brubraker Farms, Manheim – Poultry Farm, $362,500 loan
Shelmar Farms, Mount Joy – Hog & Pig Farm, $400,000 loan
Andrew & Andrea Bollinger, Lititz – Dairy Farm, $400,000 loan
These loans continue EDC Finance's strong history of supporting agriculture operations. In 2017, EDC Finance participated in 21 agriculture projects that totaled nearly $22 million in project costs.