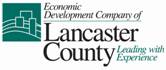 FOR IMMEDIATE RELEASE
EDC Finance Corporation Marks Ag Lending Milestones . . .
Soon to Reach $50 Million in Total Investment
Celebration event featuring PA Secretary of Agriculture slated for Dec. 11
at Pequea Township Farm
Lancaster, PA December 7, 2007 – EDC Finance Corporation, a private not-for-profit business financing partner of the Economic Development Company of Lancaster County will mark significant milestones it has reached in its work with the Lancaster County agricultural community on Tuesday, December 11 from 10:00 a.m. to 11:00 a.m. at Spring Lawn Farm LLC, Lancaster County's first robotic Voluntary Milking System, located at 248 Stoney Lane, Lancaster.
PA Secretary of Agriculture, Dennis Wolff and other state and local government officials and community leaders will receive a tour of the farm and offer remarks.
From 2000 to 2007, EDC Finance Corporation's assistance to the agricultural community in Lancaster County has directly impacted over 70 farms and more than 5,000 agricultural land acres, the equivalent of eight square miles. The work of EDC Finance Corporation has allowed Lancaster County farmers to access over $15 million in state funds to purchase farms or expand acreage, purchase equipment, or construct new buildings. In total, EDC-assisted agricultural project investment in Lancaster County since 2000 is now close to $50 million.
Of the 70-plus ag enterprises, all types and sizes of farms have obtained financing assistance including 40 dairy farms, 10 broiler farms, 6 crop farms, 5 layer operations, 1 duck farm, 4 hog finishing farms, 2 hog nurseries, 2 beef cattle operations, 1 breeder farm, 2 pullet farms and 1 alpaca farm.
The face of economic development in Lancaster County, PA is changing. Today, economic development isn't only about city redevelopment projects or attracting new businesses to Lancaster County. It's also very much about helping the County's farmers improve production output, take advantage of new technologies and buy additional land.
"As a key economic engine in Lancaster County, strategic investments like these help Lancaster County farmers stay at the top of their game," says David Nikoloff, president of EDC Finance Corporation.
ABOUT EDC FINANCE CORPORATION and EDC: Incorporated in 1986 as the business financing arm of the Economic Development Company of Lancaster County (EDC), EDC Finance Corporation provides entrepreneurs, businesses and agricultural ventures in Lancaster County access to federal, state and local funding, thereby encouraging and strengthening the County's economic growth and prosperity. EDC, founded in 1960 is the oldest economic development organization in Lancaster County.
ABOUT SPRING LAWN FARM: Spring Lawn Farm LLC has been in the Garber family for 150 years. The First Industries Fund (FIF) program monies that include Small Business First (SBF) and Machinery and Equipment Loan Funds (MELF) totaling $700,000, will assist the Garbers to increase their herd size from 155 to 275 cows, address needed upgrades, construct a new freestall barn, silo and milking parlor, purchase and install a robotic Voluntary Milking System (the first in Lancaster County) and finally position the farm to support the next generation of Garbers. Total project investment is $3 million.
ABOUT THE FINANCING: The Commonwealth's First Industries Fund/Small Business First (FIF/SBF)program loans are initially approved by the EDC Finance Corporation Board and forwarded to the PA Department or Community and Economic Development (DCED) for approval and to the Commonwealth Financing Authority for ratification. Other involved state agricultural financing programs include the First Industries Fund/Machinery & Equipment Loan Fund (FIF/MELF) and theNext Generation Farmer Loan Program (NGFLP).