EDC Finance Supports New Holland Business Expansion
The Sportsman's Shop, a New Holland based retailer for outdoor enthusiasts, purchased the former Blue Ball Lanes building located at 1214 Main Street, Blue Ball in late 2014. The early part of 2015 has been spent retrofitting the former bowling alley. The renovated space will feature a large retail store of approximately 15,000 square feet, an indoor shooting range with 12 lanes of 25 yards each and a training center.
The Sportsman's Shop was founded in 1954 and has been owned and operated by Joe Keffer and his family since 1992. Continued business growth brought about the building purchase, and with construction on track the Keffer's hope to move to the new location by midsummer.
EDC Finance Corporation and the U.S. Small Business Administration approved a $1,255,000 SBA 504 loan to assist with permanent financing. SBA 504 loans are available to most for profit businesses and can be used for the acquisition of real estate and construction/renovation costs associated with an expansion project.
Metro Bank is providing the balance of the project financing, with other project partners including general contractor Weaver Construction.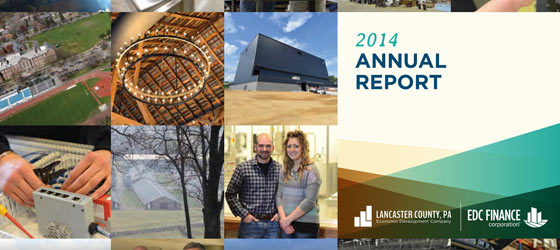 2014 EDC and EDC Finance Annual Report Available
The 2014 Annual Report is now available online here. Hard copies are available by contacting Donna Neyhard at 717-397-4046. The 2014 Annual Report highlights EDC and EDC Finance's success and activities, including capturing project data and celebrating several local businesses. The report also acknowledges the tremendous number of volunteers engaged in the organizations' efforts, along with saluting the many businesses that provide essential financial support through membership dues and marketing sponsorships.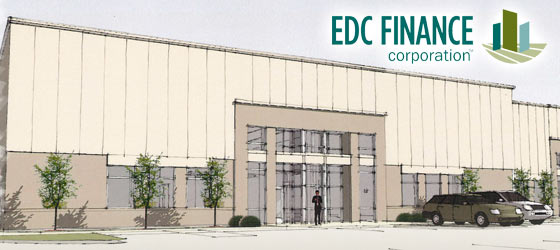 EDC Finance Helps Secure State Funding Support for New Building
Oak Tree Development Group, a diversified real estate investment and development firm located in Lancaster, is undertaking the construction of a new 105,000 sq. ft. multi tenant flex building on 8 acres of the Gateway Business Center. Once complete, the building consisting of 5 flex spaces will be located at the southeast corner of Manheim Pike and Dillerville Road, behind the Sheetz site previously developed by Oak Tree.
The property will consist of modern new construction with a 28ft clear ceiling height and 5 configured sections of about 21,000 sq ft each. To date, 40,000 sq ft is already leased. The cost of the project will exceed $6 million.
EDC Finance Corporation and the Pennsylvania Industrial Development Authority (PIDA) have approved a $2.25 million multi-tenant PIDA loan to assist with permanent financing. Multi-tenant PIDA loans are available to developers constructing industrial buildings that will be predominantly occupied by PIDA eligible tenants including industrial or manufacturing firms. PIDA loans typically provide below market interest rates fixed for the life of the loan to qualifying projects.
Construction of the facility is expected to be complete in the second half of 2015. Fulton Bank is providing the balance of the project financing, with other project partners including architect Bernardon Haber and Holloway, land planner David Miller Associates, general contractor Wohlsen Construction, and leasing agent Tom McDermott NAI.