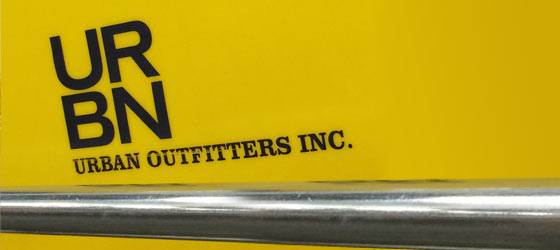 Urban Outfitters Opens Gap Internet Fulfillment Center
The retail giant's $100 million, one million-plus square foot facility officially opened last week in Salisbury Township, Lancaster County with an event celebrating its workforce and the strong public-private partnership that came together to make the project happen. Company officials indicated that staffing will continue to ramp up to approximately 500 employees, with seasonal spikes anticipated to grow the workforce to 1,000–1,500.
In remarks at the event, Urban Outfitters leadership lauded support from the Commonwealth of Pennsylvania, Lancaster County state, county and local officials, including Salisbury Township's Board of Supervisors and the Pequea Valley School District, along with the Economic Development Company of Lancaster County.
The massive facility boasts a 22-acre roof covered in nearly 13,500 solar panels and has 164 miles of total shelving. It will service approximately 65–70% of the company's internet customers.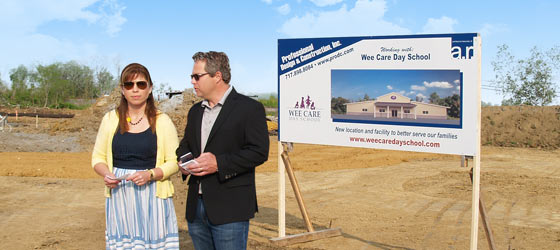 Wee Care Day School Expanding in East Petersburg
Wee Care Day School, a day care center operating out of a leased facility on Main Street, East Petersburg, recently broke ground on a new, state of the art facility. An 8,500 square-foot building is being constructed on a parcel of land located on State Street, just a few blocks away from the current location and across the street from the new East Petersburg Elementary School.
Wee Care Day School has been locally owned and operated by Kristin and Bill Troop since 2003. They offer care to children ranging from six week old infants to school aged. The new facility will enable the Troop's to continue providing a safe and constructive environment for children to learn and grow. The new location will feature a larger outdoor play area that will encourage exploration and play.
In partnership with Fulton Bank, EDC Finance Corporation provided a $634,000 SBA 504 loan that will help with the costs associated with constructing the new building. With construction underway, the Troop's hope to be operational by the Fall. Professional Design & Construction, Inc., is building the new facility.
SBA 504 Debt Refi Advancing in House & Senate
The National Association of Development Companies (NADCO) reports proposals to bring back the popular SBA 504 debt refinance lending resource has gained momentum in both the House and Senate. What is known as the CREED Act (Commercial Real Estate and Economic Development) would allow SBA 504 loans to be more broadly utilized by companies and banks to refinance commercial real estate debt. Popular during a trial run in 2010–2012, SBA 504 debt refinance loans also provide flexibility to borrowers who may desire to extend their loan-to-value on real estate back to 90% to fund other economic development or working capital needs of the operating company. CREED Act legislation is being advanced in the House as H.R. 2266 and in the Senate as S. 966. The flagship SBA 504 lending resource remains open for business as normal. If SBA 504 debt refinance advances, it will provide additional benefits and flexibility to further economic development to Lancaster County businesses.
If you have questions about SBA 504 debt refinance or traditional SBA 504 loans, give Randy Johnston, EDC Finance Loan Officer a call (717-397-4046) to discuss more details.